WINE COOLER REPAIR IN BALLANTYNE, NC
At FastAid, we offer professional wine cooler repair services in Ballantyne, NC. We understand the importance of keeping your wine collection at the ideal temperature and ensuring that your wine cooler is functioning optimally. Our team of skilled technicians has the knowledge and expertise to diagnose and repair a wide range of wine cooler issues. Whether you're experiencing temperature fluctuations, unusual noises, or any other problem with your wine cooler, you can rely on our prompt and reliable repair services. We use advanced tools and high-quality replacement parts to restore your wine cooler to its full functionality, allowing you to continue enjoying perfectly chilled wines.
FastAid Wine Cooler Repair Services Near Me
Our FastAid Wine Cooler Repair Services are designed to address any issues you may encounter with your wine cooler. We understand that a malfunctioning wine cooler can be frustrating and may compromise the quality of your wine collection. That's why our team is committed to providing efficient and effective repair services to ensure your wine cooler operates at its best. Whether it's a faulty thermostat, a compressor problem, a leaking issue, or any other malfunction, our technicians are equipped to handle the repair with expertise and precision. We strive to minimize downtime and restore your wine cooler to its optimal performance as quickly as possible.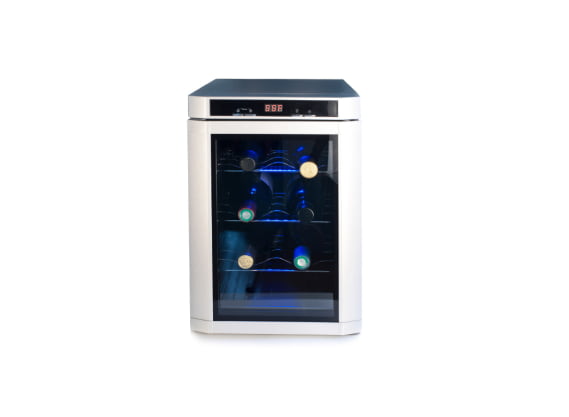 Common Wine Cooler Problems and Solutions
Temperature Fluctuations: If your wine cooler is experiencing temperature fluctuations, it could be due to a faulty thermostat, a malfunctioning fan, or a blocked vent. Our technicians can diagnose the issue and replace any defective components to restore stable temperature control.
Excessive Noise: Unusual noises coming from your wine cooler can be a sign of a worn-out fan motor, loose components, or a malfunctioning compressor. We can inspect and repair these parts to eliminate the noise and ensure smooth operation.
Leaking: Leaks in your wine cooler can occur due to a faulty door seal, clogged drain tubes, or a malfunctioning condensation pump. Our technicians can identify the source of the leak and perform the necessary repairs to prevent further damage.
Insufficient Cooling: If your wine cooler is not cooling properly, it could be due to a faulty compressor, a refrigerant leak, or a malfunctioning thermistor. We have the expertise to diagnose and fix these issues, restoring the cooling capacity of your wine cooler.
Electrical Problems: If your wine cooler is not turning on or experiencing electrical issues, it could be a result of a faulty power cord, a damaged control board, or a tripped circuit breaker. Our technicians can troubleshoot the electrical system and provide the necessary repairs to ensure proper functioning.
Vibration: Excessive vibration can negatively impact the aging process of your wines. It can be caused by an unbalanced compressor, loose components, or inadequate insulation. Our team can address these issues and reduce vibration to protect the quality of your wines.
Frost Build-up: If frost is accumulating inside your wine cooler, it may be due to a malfunctioning defrost system, a faulty door gasket, or improper ventilation. Our technicians can resolve these issues and restore the ideal storage conditions for your wines.
Unpleasant Odors: Foul odors in your wine cooler can be caused by mold or mildew growth, spills, or expired food items. We offer thorough cleaning and sanitization services to eliminate odors and maintain a fresh environment for your wines.
Display or Control Malfunctions: If the display or control panel of your wine cooler is not functioning properly, it could be due to a faulty control board, a loose connection, or a damaged display panel. Our technicians can diagnose the problem and perform the necessary repairs to restore full functionality.
Frequent Cycling: If your wine cooler is cycling on and off too frequently, it may indicate a problem with the temperature sensor, the compressor, or the control board. Our experts can identify the underlying cause and resolve the issue, ensuring proper cycling and energy efficiency.
No matter the problem you're experiencing with your wine cooler, our dedicated team at FastAid is here to provide top-notch repair services. We prioritize customer satisfaction and strive to deliver reliable and efficient solutions to get your wine cooler back in excellent working condition.
FastAid Appliance Repair Specials
Alto-Shaam Wine Cooler Repair
Amana Wine Cooler Repair
Bertazonni Wine Cooler Repair
BlueStar Wine Cooler Repair
Bosch Wine Cooler Repair
Bunn Wine Cooler Repair
Cambro Wine Cooler Repair
Crosley Wine Cooler Repair
Dacor Wine Cooler Repair
Delfield Wine Cooler Repair
Electrolux Wine Cooler Repair
Fisher & Paykel Wine Cooler Repair
Frigidaire Wine Cooler Repair
Garland Wine Cooler Repair
GE Wine Cooler Repair
Globe Wine Cooler Repair
Hobart Wine Cooler Repair
Hoshizaki Wine Cooler Repair
Jenn-Air Wine Cooler Repair
Kenmore Wine Cooler Repair
KitchenAid Wine Cooler Repair
LG Wine Cooler Repair
Magic Chef Wine Cooler Repair
Manitowoc Wine Cooler Repair
Maytag Wine Cooler Repair
Merrychef Wine Cooler Repair
Miele Wine Cooler Repair
Monogram Wine Cooler Repair
Pitco Wine Cooler Repair
Rational Wine Cooler Repair
Rheem Wine Cooler Repair
Samsung Wine Cooler Repair
Scotsman Wine Cooler Repair
Sub-Zero Wine Cooler Repair
Thermador Wine Cooler Repair
Thor Wine Cooler Repair
Traulsen Wine Cooler Repair
True Wine Cooler Repair
TurboChef Wine Cooler Repair
Uline Wine Cooler Repair
Viking Wine Cooler Repair
Vulcan Wine Cooler Repair
Waring Wine Cooler Repair
Whirlpool Wine Cooler Repair
Wolf Wine Cooler Repair
Wine Cooler Repair FAQs
If your wine cooler is not cooling properly, first check the temperature settings and make sure they are correctly set. Ensure that the wine cooler is not placed near a heat source or exposed to direct sunlight. Clean the condenser coils regularly to remove dust and debris that may be obstructing airflow. If the issue persists, it may indicate a faulty thermostat or compressor, and it's recommended to seek professional repair.
Unusual noises from your wine cooler can be indicative of various issues. It could be due to a faulty fan motor, a loose component, or an obstruction in the airflow. Try cleaning the interior and checking for any loose parts. If the noise persists, it's advisable to have a professional technician inspect and diagnose the problem to prevent further damage.
Regular cleaning of the interior is essential to maintain the optimal performance of your wine cooler. It's recommended to clean the interior at least every three months or more frequently if you notice any spills or stains. Use a mild detergent and warm water to clean the shelves and interior surfaces. Avoid using harsh chemicals or abrasive materials that may damage the wine cooler.
If the door of your wine cooler is not sealing properly, it can lead to temperature fluctuations and energy inefficiency. Check for any obstructions around the door gasket and ensure it is clean and free from debris. If the gasket is damaged or worn out, it may need to be replaced. Consider contacting a professional technician to assess the door seal and provide the necessary repair or replacement.
To prevent odors in your wine cooler, ensure that food items, particularly strong-smelling ones, are properly sealed before storing them. Regularly clean the interior of the wine cooler to remove any spills or residue that may cause odors. Placing an open box of baking soda inside the wine cooler can help absorb any lingering odors.
An error code on your wine cooler's display typically indicates a specific issue or malfunction. Refer to the manufacturer's manual or website to identify the meaning of the error code. Common reasons for error codes include temperature sensor problems, fan malfunctions, or electrical issues. It's advisable to contact a professional technician for accurate diagnosis and repair.
While some minor issues like cleaning or replacing the interior light bulb can be done by the user, it is generally recommended to seek professional assistance for wine cooler repairs. Wine coolers are complex appliances with sensitive components, and improper repairs can lead to further damage or void the warranty. Hiring a qualified technician ensures proper diagnosis, repair, and safety.
To extend the lifespan of your wine cooler, ensure regular maintenance and proper usage. Clean the interior regularly, keep the unit away from heat sources, and maintain the recommended temperature settings. Avoid overloading the wine cooler and handle the door gently to prevent damage to the seal. Regularly inspect and clean the condenser coils to promote efficient cooling.
If the light in your wine cooler is not working, start by checking the bulb to see if it needs replacement. Ensure that the wine cooler is unplugged before replacing the bulb. If replacing the bulb doesn't solve the issue, there might be a problem with the socket or the electrical connection. It's advisable to consult a professional technician to assess and fix the lighting problem.
If your wine cooler is not turning on, check if it is properly plugged into a functioning power outlet. Verify that the outlet is providing power by testing it with another appliance. If the wine cooler still doesn't turn on, there might be a problem with the power cord, control board, or another internal component. Contact a qualified technician to diagnose and repair the issue.
Are there any questions left?
Contact us and we will answer!
Request a call back